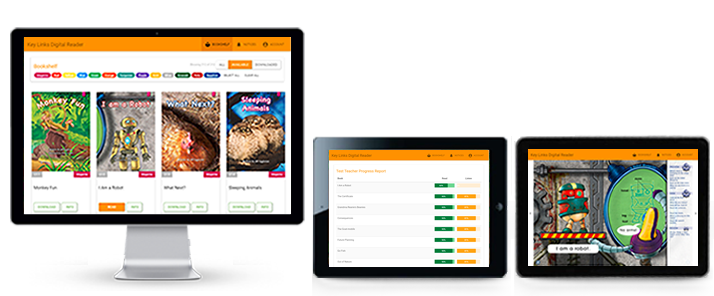 Access the Key Links Bookshelf and embark on a whole new learning experience!
Key Links Digital incorporates interactive features to foster a child´s love for reading.
Suitable for use in classroom or home-based learning
Easy-to-operate bookshelf layout, titles are organised by colour and sequence
Interactivity and animations enhance the reading experience
Narration and vivid speech bubbles reinforce reading expressions
Teachers and Parents have an overview of child´s progress
---
Minimum Requirements
Hardware Requirements
A device with a minimum screen resolution of 1024x768 is required in order to view the content.
Internet Connection is required for downloads and data sync.
Software Requirements
Updated version of Chrome, Firefox or Edge browser.
Key Links is not supported for use on Netbooks.